Meet the Maker: Rupert Blackwall of RJ Blackwall Gunsmiths and Rifle Makers

Rupert Blackwall knows quality, and he's passionate about sharing his knowledge with the shooting community at large. Here's the story behind how (and why) 'RJ Blackwall' came to be.
Viking Arms is proud to work with globally renowned brands at the leading edge of our industry. We also work with top-class craftsmen like those at R.J. Blackwall. Rifles coming through their shop are carefully crafted, maintained to the highest standards, and widely respected for their quality personal touches.
Today we meet the man behind the business, Mr. Rupert Blackwall.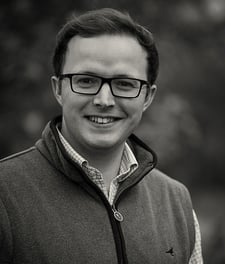 Rupert spent his early years slinging a 20 bore shotgun around his family's farmland in the Cotswolds near Chastleton, and those carefree days set him on an unexpected but impressive career course.
Read on for more of his story in his own words.
Learning from the Masters
'"I used to be every weekend, like literally every possible minute, I would be out with a gun," Rupert shares. "I've been massively, massively passionate about shooting from a young age."
At only 17, Rupert left home to become an apprentice for historic bespoke gun makers EJ Churchill. A natural aptitude for engineering skills (like innovation and attention to detail) almost had him join the Royal Engineers or train in civil engineering- but Rupert figured gun-making was a way to combine those skills with his main passion.
"At the time I went to go and have a trial period, and you know, the magpie effect and the excitement of it sort of carried me on," he admits, recalling his years with the renowned gun makers. "Working at EJ Churchill all these amazing guns just sort of blew me away, and I sort of carried a career out of it. And it was a fun place to work, a fun crowd of people."
Rupert met Viking Arms' own Andy Norris at that time, plus several other lifelong contacts in the sporting rifle community. He also earned his business management degree opting to forgo a pay rise from EJ Churchill in favour of taking some time to further his education (alongside the gun making gig he loved).
RELATED: The Armoury at Viking Arms
A Return to the Cotswolds
Armed with his degree and his network of friends in the shooting world, Rupert took aim for a business venture of his own.
He noticed that most guns in EJ Churchill's workshop had become imported models without much customisation, which didn't always appeal to him. Deciding to take what he'd learned as a gunsmith and move on, he set up his own workshop closer to home in 2008.
"It made sense to come back here and have a crack of the whip really," he shares. "I just went for it. I had nothing to lose."
It was a risk that paid off. Over the thirteen years that followed, Rupert went from fixing "little knick knacky bits" on friends' rifles to expanding his workshop space into the unit next door, now a showroom stocking his new classic sporting rifles and quality second-hand guns. It also deals in Merkels and is the UK Flagship store for Mauser.
Despite its success, RJ Blackwall has stayed a small and close knit family business- they've got under five employees, including Rupert's wife Clare using her own expertise to sort the online retail.
The business is working: According to Mauser Germany's stats, RJ Blackwall has sold more Mauser MO3s than any other store in the whole of Europe. Why does Rupert think they succeeded where other shops didn't?
"If you know it you know it, and because we come from the gun making aspect and the workshop aspect, we can explain things slightly differently than maybe what a standard retail shop can."
RELATED: Merkel Range Feature at Guns on Pegs
Bespoke Touches for Merkel Rifles
Whether you're a rifle or shotgun enthusiast, sporting or target shooter, Rupert can probably guess your shooting needs. His knowledge of his client base stoked his interest in products like the Merkel K5 single shot rifle, which he knew customers would love.
"It's the practicalities of it," Rupert says. "It's very lightweight, it's very short, it's very small…It's a bit like having a sports car at the weekend you know, a little lightweight, something pretty, and practically very handy because if you've got to drag a carcass out, as well as carry the rifle, and all the other bits and pieces you got on you, it suits very well."
Rupert is also happy with its price point, especially compared to similar (but pricier) options like the Blaser K95 single shot rifle. When his customers buy the Merkel K5, it's kitted out with refinished stocks, upgraded wood, and a custom RJ Blackwall case. In his words:
"It's a German rifle, but with a bit of an English touch, presented slightly differently than maybe the Germans would…giving a bit of va-va-voom if you know what I mean."
RELATED: Merkel Products at Viking Arms
Passing His Confidence Forward
There's no denying that Rupert is a technical expert. He's full of trade secrets, crediting the colour and finish of his rifle stocks to as much as 60 coats of 'secret formula' applied in his workshop. He also produces bespoke gun cases for the Merkel rifles that he stocks.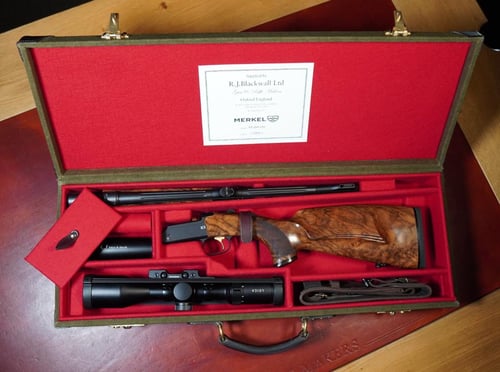 But it takes more than technical knowledge to excel in this field. Like us at Viking Arms, Rupert recognises that a genuine enthusiasm for shooting sports is essential for serving the rifle shooter and hunter community.
"I think with selling rifles, you need to have that knowledge, that confidence," he agrees. "You've got to have an understanding of calibres and ballistics and things like that, and also having extensive hunting experience helps massively as well, if you go out and use rifles- not just talk about it, actually go and hunt and go abroad and do all that."
Rupert himself has been abroad on a few hunts including some in Africa, and admits that those experiences inform his good customer service.
"When people come to speak to you, because you've been there, done that, got the t-shirt, you can hand that experience knowledge over," he explains. "And in your own right, you can feel it. You can give that confidence over to them."
Even with all those hunts under his belt, Rupert is still motivated to take his shooting to new heights.
"I'd be very excited to go and hunt chamois in the Austrain Alps with a K5," he says, explaining what's currently on his wish list. "A single shot rifle, mountain hunting in the snow…it's something I'd love to experience. At some stage I will."
For more of Rupert's expert insights or to watch his passion at work, you can visit the tutorials on RJ Blackwall's YouTube channel.
READ NEXT: How does the Merkel Helix Arabesque measure up against the best rifles in the field?