Mossberg: Innovation is always the target

What do you get if you add AR15 accessories to a classic bolt action rifle that wears a tactical stock? The answer is a very interesting combination indeed, in the form of the Mossberg MVP Light Chassis Rifle. We've all witnessed the growing interest in chassis rifles in recent years and Mossberg has been keen to offer them, and with this one they've really come up with something new. It's quite a compact rifle, measuring just 33.5" in .223 and 7.5lbs, and you can shorten the stock right down with the flick of a lever, making it smaller still. Anybody foxing from a truck will love this feature.

The bolt action itself is quite conventional, albeit with a novel adaption that ensures reliable feeding from the 10-shot AR15 type magazine supplied. Clearly that's more cartridges than most hunters typically carry but as a dual-purpose hunter and competition rifle, higher capacity magazines make sense. You could actually fit any AR pattern mag', even the 30-shot ones! It took some clever engineering to get a bolt action to feed from AR mags' and Mossberg has patents covering their work because it so unique. In keeping with the tactical theme, the bolt knob is over sized, making for a good, solid grip even with cold, gloved hands.
The trigger is what Mossberg calls its LBA (Lightning Bolt Action) system which features a raised tab along the blade that must be depressed before the rifle will fire, adding safety to the system. It's adjustable down to three pounds, so should suit most people well enough. Another nice touch is that the bolt has spiral fluting, helping any muck to find its way out of the action should the rifle get unexpectedly dirty in the field. It adds a touch of style too, as well as saving a little weight.
On top there's the now obligatory Picatinny rail that seems to have found almost universal acceptance today. They're strong, reliable and simple to set up for the average shooter, requiring nothing more than your scope and suitable mounts to get ready. It's also the ideal choice for anybody who likes to swap from day optics to night vision or thermal imaging.

What's less conventional is the machined aluminium 'chassis' stock onto which the Milspec AR style stock and pistol grip fit. It's drastically machined to minimise weight, while offering sure stability and support. We can be confident that weather and temperature won't affect this one. As the action bolts down with a metal-to-metal fit, there's no need for after-market bedding work, which saves time and money. The looks are perhaps a little bit 'Marmite' but I quite liked it. Both stock and grip are supplied by the American accessory giants Magpul and feel quite solid and substantial. I particularly liked the locking mechanism that eliminates the wobbles usually found with telescoping stocks. As the fitments are the standard AR pattern there are literally thousands of optional accessories on offer should you want to replace either grip or stock to customise the rifle to your own style and taste. I was glad to see sling swivel studs fitted as standard as I wouldn't fancy drilling and tapping that stock, a job better done at the factory in my view.
The stock, or should I say chassis, is deeply machined around the barrel for fully free-floating clearance and cooling is enhanced by the many machined holes in the forend. Perhaps this cooling feature is unimportant for hunters, but competition shots will appreciate it. Mossberg chose to fit a medium bull barrel with some fluting towards the muzzle, where you'll find it screw cut to accept a muzzle brake for competition use or a moderator for the hunters. The vent holes are actually the M-Lok design so that again, you can add whatever accessories you find useful very easily indeed.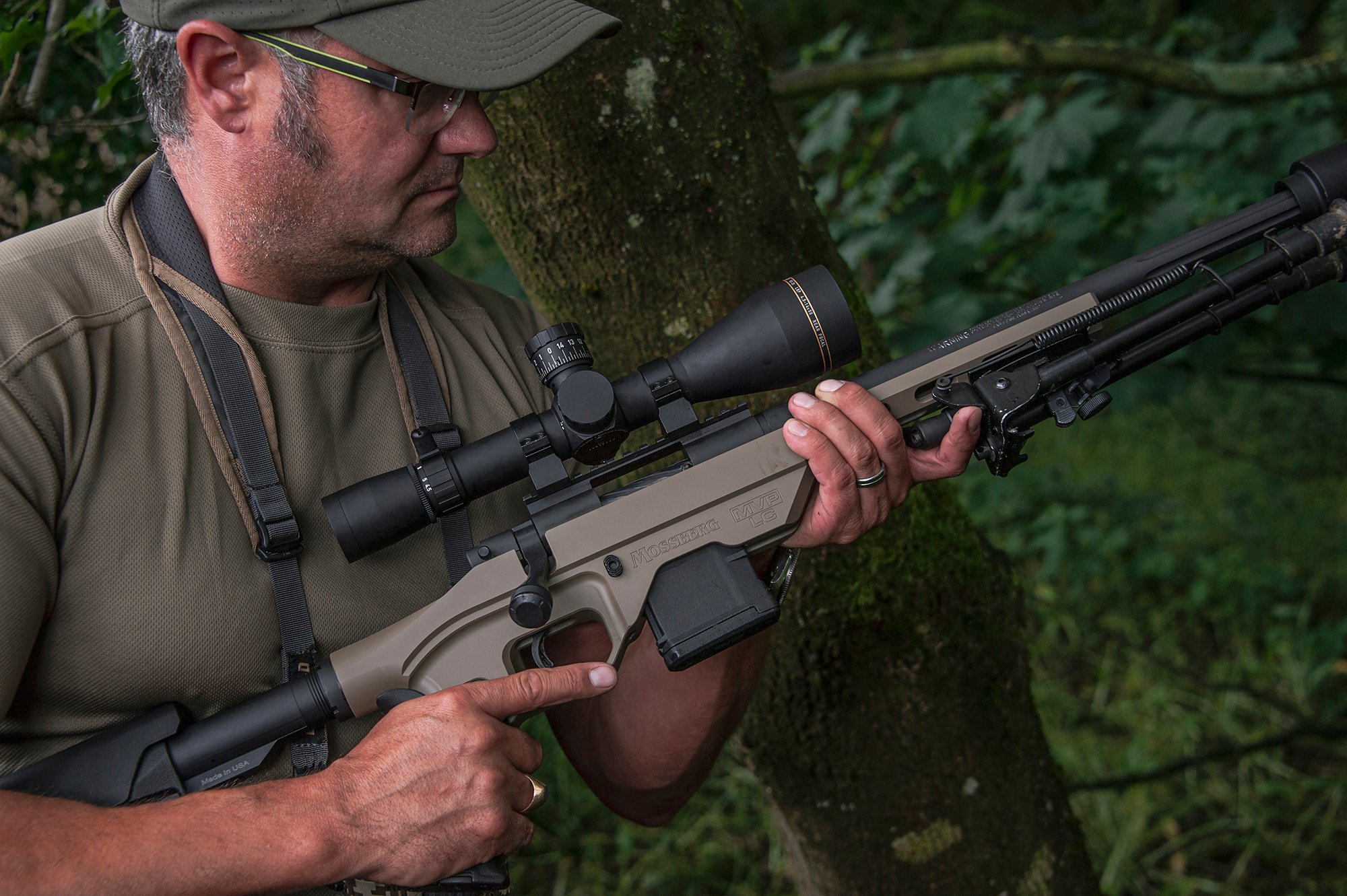 Calibre choice is limited but it's very clear that they know the market for such a gun, because they offer .223, .308 and 6.5 Creedmoor which look like the obvious choices for such a rifle.
In the shoulder the MVP feels like what it is, namely a combination of a traditional sporter with a military style of handling. The Magpul stock has little drop to heel, like an AR and the drop-down grip means your trigger hand feels low relative to the action. This gives a nice comfortable approach to the trigger blade which I particularly liked. Up front it is more unusual because the forend is very slender just after it passes the magazine well. Like some others who shot the rifle, I found myself gripping the ramped section in front of the magazine rather than the forend itself. Holding the forend proper made me feel as though my leading hand was much higher than my trigger hand… because it was. I've often seen pictures of AR users holding their rifles in a similar way, so perhaps this was what was in the designers minds right from the start of the stock design.
Mossberg has another model in its range that caught my eye because it offers many of the features of the Light Chassis Rifle in a somewhat more conventional set-up. The MVP-LR (long range) has most of the advanced mechanical features of its little brother riding inside a more conventional stock. It makes for a much bigger and heavier rifle, which lives up to the name, being a proper long-range gun. However, for many people the longer, heavier and more stable gun might be just what they want.

The synthetic stock features a steeply inclined pistol grip for superb trigger control while the long forend has a broad base that settles oh-so-comfortably onto bags. There are two sling swivel studs up front, acknowledging how serious long-range hunters work. One stud for the sling real hunters need and the second is for the bipod that so many long-range shots demand.
The stock has a stippled finish that aids grip in adverse conditions and is comfortable to hold even on the coldest days. It's matt green which is right up my street, offering reflection-free camouflage to the serious hunter.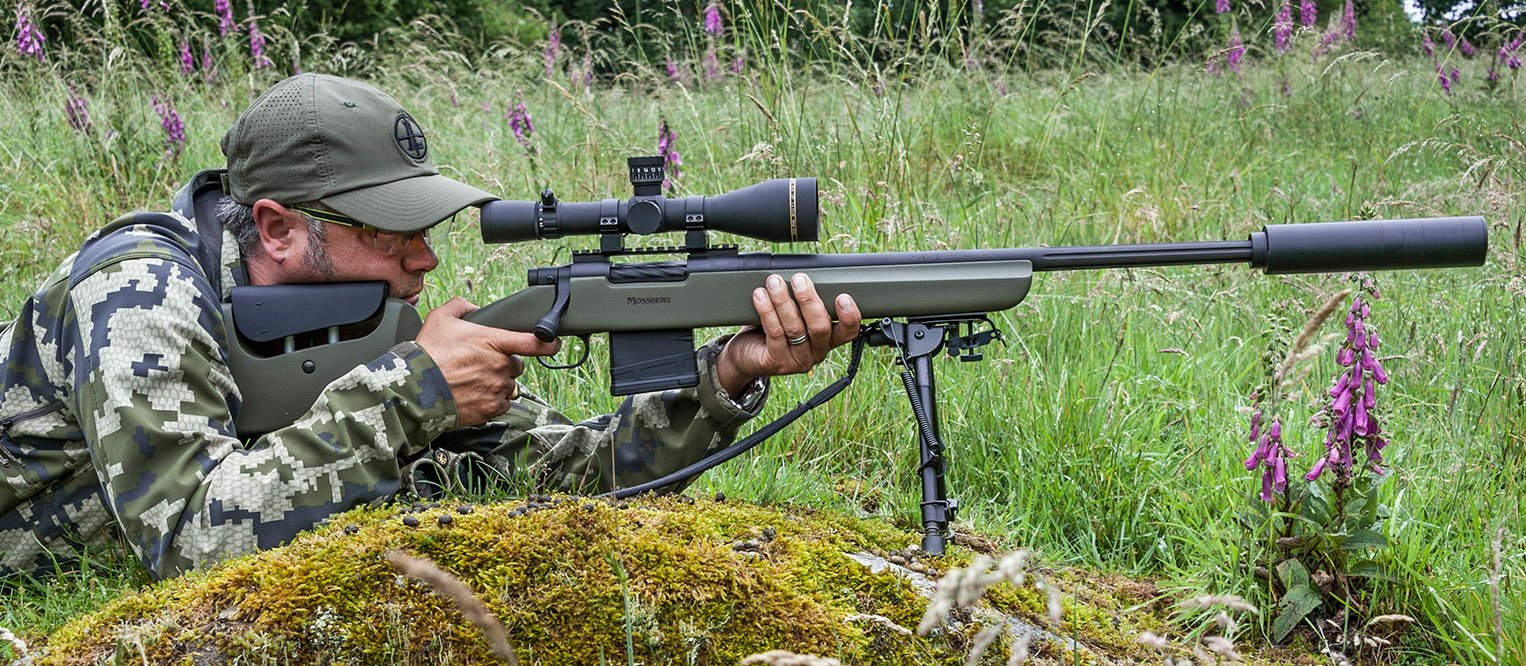 Perhaps the best stock feature of all is the manually adjustable cheek piece, which is coated with something called Mosscote, a product that's soft to the touch while being durable and tough. Being able to get perfect alignment for your eye to the axis of the scope is hugely important for anybody who values accuracy and consistency. You need no tools to adjust the height. You simply press a button and it can be changed. For the ultimate fit, there are screws under the cheek piece that allow for some left and right adjustment too, letting us get the ultimate customised fit.
I think it's great that Mossberg is offering us two ways of enjoying the MVP rifles and I'm sure that there will be endless arguments as to which is superior, but how lovely to have the choice!
The LR's handling is more conventional than the Light Chassis Rifle but it has to be remembered that it was optimised for shooting from bags or off a bipod for ultimate stability, so you pays your money and you makes your choice, if you see what I mean? Handy and agile or stable and steady. You choose.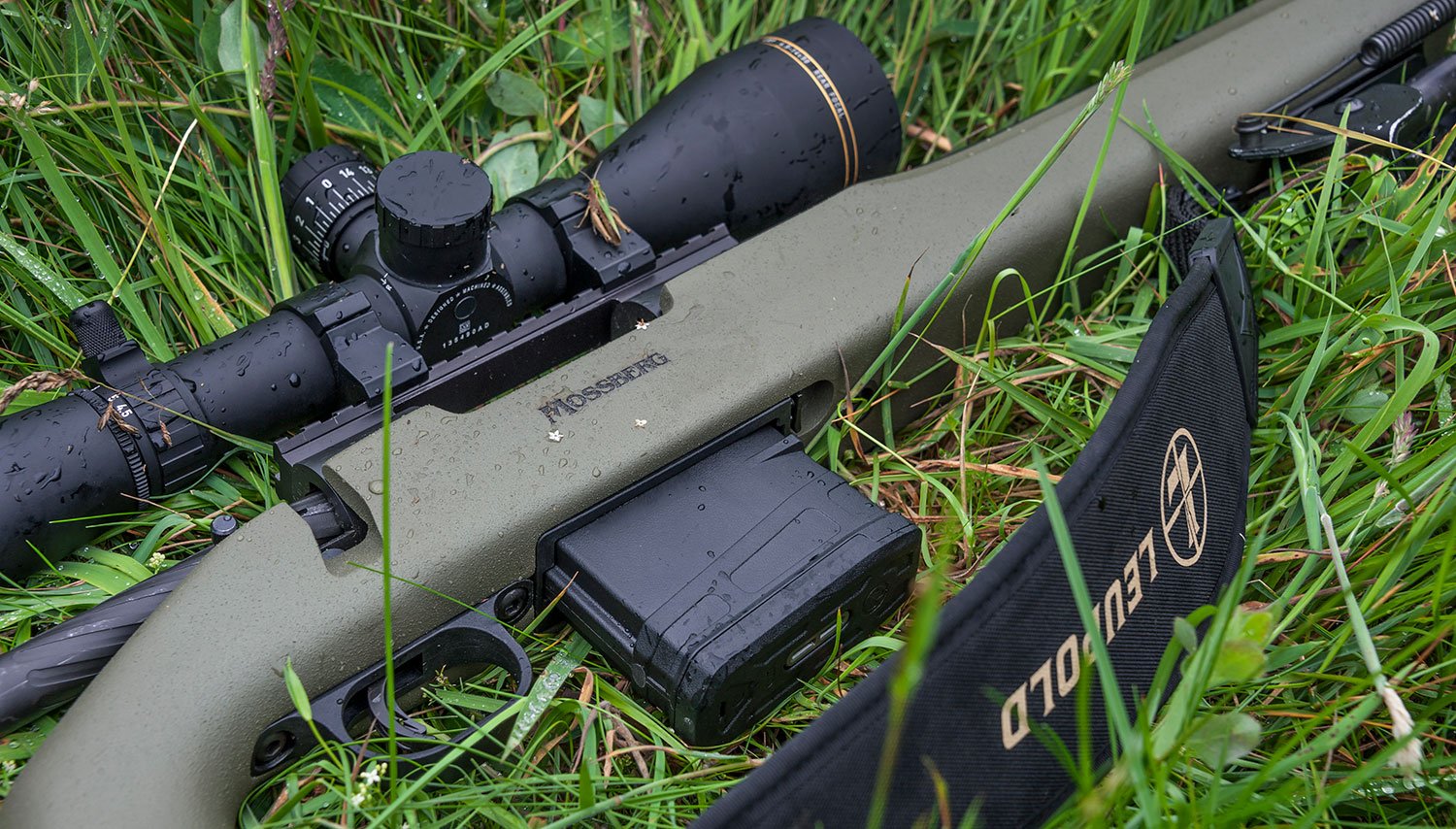 For me, it's interesting to see how rifles are developing and bringing us increased performance in new ways. For some, change is uncomfortable but for others innovation offers improved accuracy and reliability in harsh conditions, with technologies borrowed from military experience. Whatever, choice is always a good thing in my eyes and these two rifles certainly deliver that.