Sweet and Neat: Ruger American Ranch Rifle

Pete Moore checks out Ruger's compact Ranch Rifle from their budget American range and is very impressed.
Although short barrels mean reduced velocity with a subsequent drop in energy and effective range capability, there's something about any carbine that's just so appealing! A point in case is a model from Ruger's American centrefire series, the Ranch Rifle.
Spoilt for choice
For years, Ruger's only bolt-action option was their M77 series, pretty much a value-engineered copy of the great Mauser M98 action. It offered a solid and reasonably classic build, with a few of their own ideas thrown in: dedicated scope mounting system, 3-position safety and a standard floor plate magazine system. I've owned one or two M77s in my time, with few complaints.
However, I've also noted that the prices have climbed dramatically over the years too. And with other US manufacturers now fielding what I would term budget-type rifles, that substituted nice woodwork for plastics and a more affordable and easier to produce design. Despite what you might think of this concept, it makes financial sense and has now been perfected to offer more than capable firearms. And some time ago, Ruger got on that train too, with their American series in both rimfire and centrefire options.

The short American
The standard build shows a synthetic stock, tang-mounted safety catch and a detachable, 4-round magazine. Most rifles have a Picatinny rail included and there are options on colour and finish. Barrels in the majority of cases and calibres are 22" and there are a number of dedicated models - Standard, Predator, Hunter, Compact and the subject of this test, the Ranch, which offers some very interesting calibres.
The Ranch is best described as an ultra-carbine, and with an average barrel length of just 16", it comes across straight away as a very handy little piece and it proved to be so. Something also attested to by its calibre choice, you get: .300 Blackout (Blk), .350 Legend, 6.5 Grendel, .450 Bushmaster, 7.63x39mm and 5.56x45mm NATO, for that read .223 Rem, which I had on test. Depending on the calibre, capacities vary from 3 to 10-rounds and where possible use a Magpul P-Mag for numbers like Blackout, Grendel and 223. Eye-catching, the Ranch comes with a decent polymer stock with inset gripping sections, a generous recoil pad, with an overall, FDE (flat dark earth) finish, which seems to be the colour of choice these days. The barrel and receiver are in black and the muzzle is threaded 1/2x28" UNEF, same as the AR15. Seriously, I like that look and had my S&W M&P15/22 semi, FDE'd in Cerakote by Riflecraft a good few years ago.
Included
Another house point for the Ranch is that Ruger fit it as standard with a Picatinny rail, so no problems with scope mounting. Importers, Viking supplied a Leupold 3-14x50 VX3 HD and 30mm rings. I added a Harris BRS (Bench Rest Swivel) 6-9" bipod with adjustable cant and a compact, Barton Gunworks, muzzle- mounted moderator that I normally use on my 6.5 Grendel.
Controls feature a tang-mounted safety (my favourite design on a rifle this type), push forward to FIRE and reverse for SAFE, right under the thumb, it's easy and instinctive to use. The trigger is Ruger's Marksman model and adjustable from 3-5 lbs. All you do is remove the action from the stock and there's a screw at the front of the mechanism, wind it in for more pressure and out for less. It's not that subtle but does make a difference.
AR advantages
As the 5.56 Ranch uses AR15 magazines, the mag well is more like a short version of an ARs, with a release button rear- right. Easily operated by the trigger finger, just reach forward and press it and the mag falls free. Although primarily a compact small deer and varmint rifle in the UK, the possibility of using larger 20 or 30-round mags would allow it to compete in disciplines like Service or Practical rifle at a fraction of the cost of a dedicated straight-pull.
Plus, the light/medium barrel shows a 1-8" twist rate, so it should handle heavier bullet weights, like 69-grains, that would allow it to reach out with good accuracy. At 16", too short you might think? But the majority of ARs used in these disciplines are the same length and have no problems. You might get some funny looks if you turned up with a Ruger Ranch, but that would stop when you started shooting, as with the right ammo it can deliver the goods!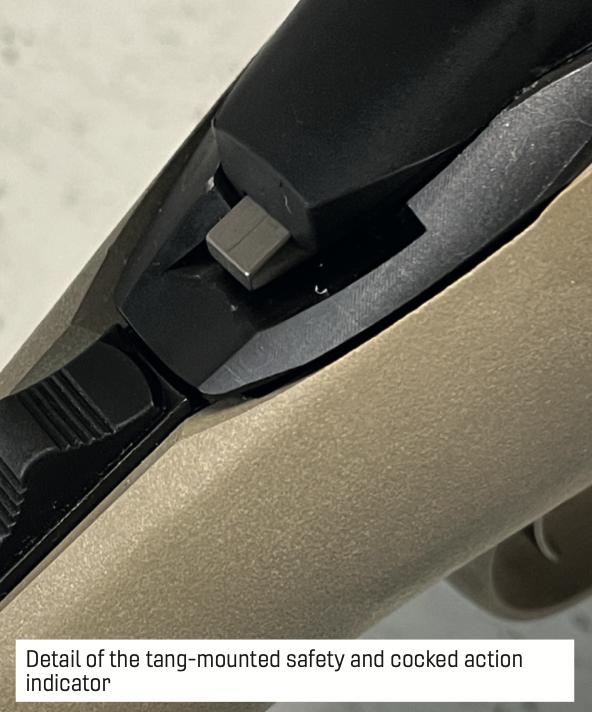 Locked
One slight anomaly is that on an AR15, the magazine offers an automatic, last round hold-open facility, with the platform rising to actuate the hold open catch. The same occurs with the Ranch, but here the bolt is simply blocked from moving forward until the empty is removed. Not a problem, but it takes a bit of getting used to. You could, I imagine, file the rear face of the mag platform to stop this from happening.
Weighing in at a mere 6.1 lbs (bare backed) and measuring just 36" muzzle to butt, the Ranch is a sweet and handy carbine with bags of shootability. Even when fully bombed-up with moddy, full mag and scope, handling is not an issue.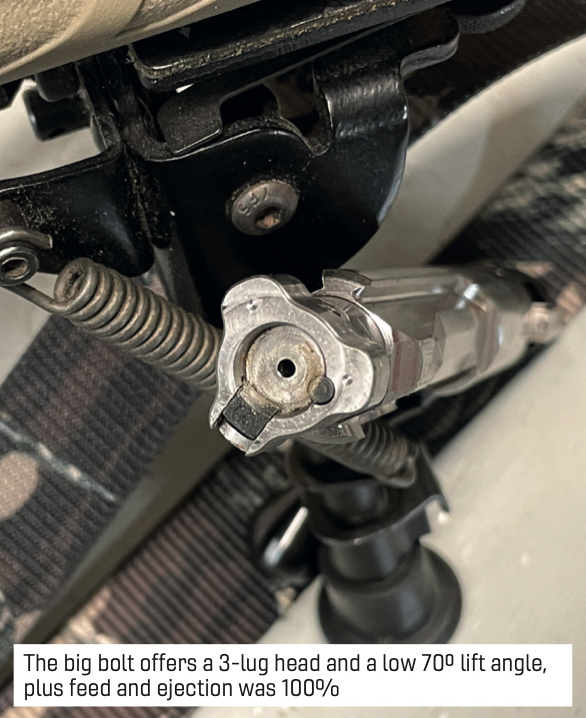 Ammo-up
As is my way, I selected a cross-section of ammunition, both factory and a reload, to see what the Ranch might like. With its short barrel, I was expecting a definite drop in velocity. The four loads were Hornady 55-grain steel case FMJ BT Training, Geco 53-grain soft point, Hornady 40-grain Superformance V-MAX and my standard AR15 load; 24-grains of Ramshot TAC under a 69-grain Sierra BTHP Match bullet.
I was not expecting the V-MAX to be putting round-on-round, as the 1-8" rifling twist would be way too tight for it. However, I was keen to see what sort of velocity it would produce, as there would be a significant drop from the Hornady-quoted 3800 FPS. As it happened, the short 16" tube unsurprisingly took its toll on velocity with all loads, which is the payoff on any carbine.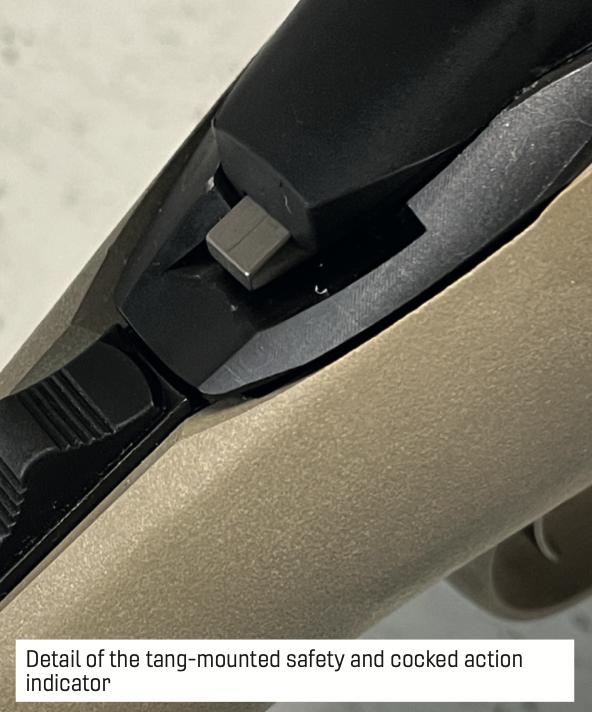 Performance
Hornady 55-grain FMJ BT Training: Although light for the 1-8" twist, this ammo was achieving 1" groups at 100m, with an average speed of 2858 FPS and 1007 ft/lbs of energy. Extreme velocity spread (ES) was 81.6 FPS. Velocity drop was 257 FPS from the quoted 3115 FPS.
Geco 53-grain Soft Tip: Once again, light for the twist. The groups opened up to 1.3", so not too terrible. Geco quotes a muzzle velocity of 3213 FPS, but the actual figure was 2847 FPS for 964 ft/lbs and an ES of 22.8 FPS.
69-grain Reload: Sierra's 69-grain BTHP Match is a known performer and despite slower speed, it didn't disappoint. Average velocity was 2671 FPS and 1101 ft/ lbs, plus some sweet 0.5" groups (good as any AR15!). ES was 27 FPS. OK, a target round, but substitute a ballistic or soft tip bullet of the same weight and watch out small deer species and Charlie.
V-MAX: The 40-grain V-MAX shot 2-3" groups, not good, but actually, better than I expected! Average speed was 2951 FPS for 782 ft/lbs, with a massive ES of 167 FPS. It does illustrate the need to match your projectile to the correct rifling twist. I'm a bit dubious of Hornady's claim of this load doing 3800 FPS, as even in a 1-12" twist, 22" barrel, I was only getting 3163 FPS, but in this case some sweet 0.6" groups.

Thoughts
The V-MAX load aside, which was totally wrong for the barrel, the Ranch in 5.56/223 Rem shoots well enough and meets the requirements for small deer and vermin species. Plus, with match- type bullets, it can shoot the groups.
From the box, the trigger was quite firm, so I wound it down to minimum, which helped. Handling was excellent as it's just so light and easy to manoeuvre. The tang safety, as always, was brilliant and the action fed smooth and easy plus didn't miss a beat. One anomaly was the unexpected last round hold open, which I initially found annoying. But that was a very minor niggle on my part.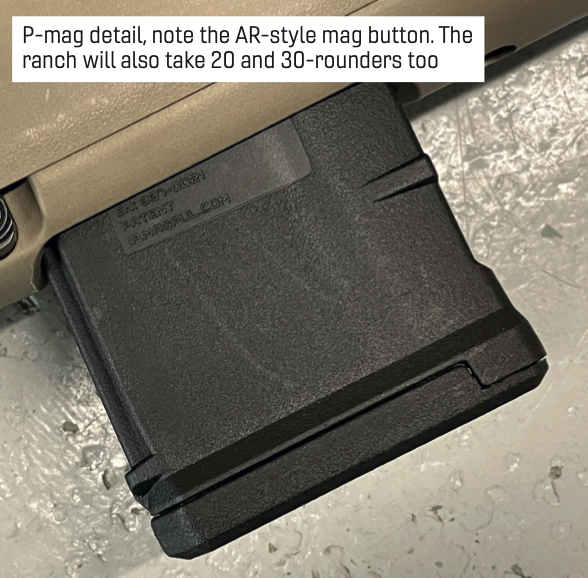 It is what it is!
OK, the Ranch is what it is, a light and handy carbine, but in the right calibres, it can shoot well. Of these, the 5.56/223 gets my vote, as you have good accuracy potential. Yes, speed is down, but not to such levels that make it useless. Oh yes, and a sweet little rifle with a price tag of around £700 and that includes a Picatinny scope rail.
Being a 6.5 Grendel shooter, I'd love to try a Ranch in that calibre, as it's a cartridge that punches well above its weight. Although, I think you'd need at least a 20" tube to make it large deer legal.