The Intrepid Hunter: Stalking Moose in Norway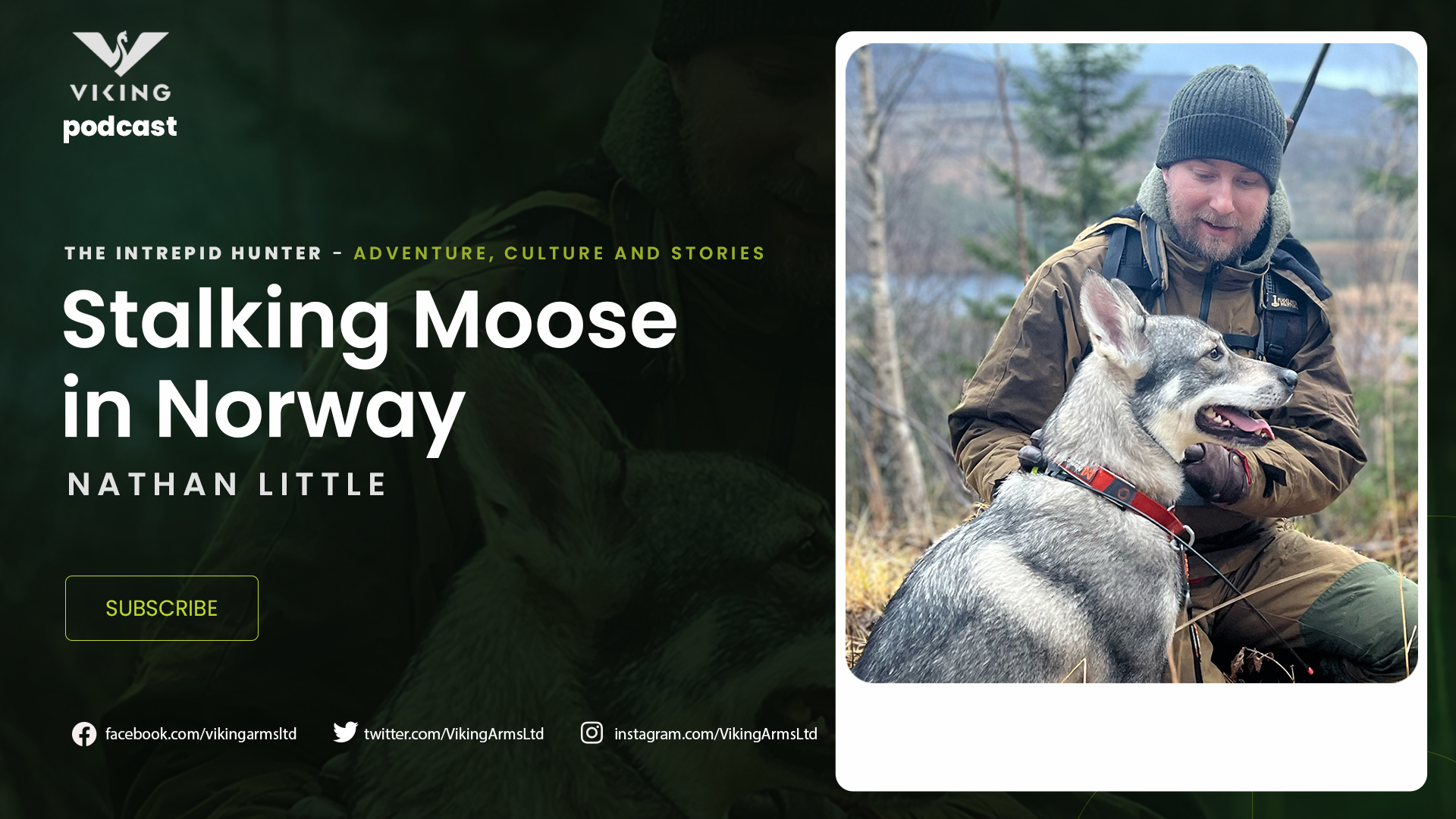 Episode 2 is out now: In The Intrepid Hunter podcast, Manchester-born Nathan Little takes listeners with him on exciting hunting exploits around the world. He's spending 2023 hunting in remote global locations to show shooting enthusiasts that hunting abroad is both affordable and feasible.
Episode two covers Nathan's epic inaugural adventure hunting Norwegian moose on a beautiful estate near Rorvik.
Listen to Nathan's stories on The Intrepid Hunter to find out how you can travel the world hunting, from planning your trip and what to expect logistically to accommodation and equipment specifics.
Subscribe to Viking Arms Ltd on YouTube, read the latest news on vikingshoot.com and follow The Intrepid Hunter on your favourite podcast service.
Location and game choice
Initially planning to fish Norway's mighty Alta River - the holy grail for salmon fishing - for his 30th birthday, Nathan learned of the magnificent Plahtes Eiendommer Estate from a friend on a Highlands hunting trip.
At 75,000 ha, Plahtes is Norway's largest privately-owned estate, offering incredible fishing and game hunting opportunities in dramatic countryside punctuated by huge mountainous areas and wide fjords.
Discovering that fishing the Alta was "nigh on impossible", Nathan contacted estate manager Kristoffer Gjersten via Facebook. Primarily a hunter, Kris told Nathan about the moose hunting and 'wind shooting' (game shooting) Plahtes offered.
Excited by this prospect, Nathan changed his plans to a moose hunting expedition. "It was the first year of hunting without my dad so I wanted to do something really special."
Equipment and climate
Having hunted ibex in Kyrgyzstan in 2021, Nathan had flown with a rifle, but elected to use Plahtes' estate rifles for simplicity's sake.
Kriss planned a more unique mountain hunt, as opposed to more common techniques such as baying dog hunts. He advised Nathan to pack for "an autumnal Scottish hunt," bringing smocks and layers to ward off the rain and wind.
While it wasn't a deep Norwegian winter, layers were necessary - they could be removed for hiking and replaced while sitting and glassing.
Footwear
Nathan swore by his Brandecosse boots, enthusing about their exceptional comfort and durability. Having arrived with a new pair for the trip, his guides Kris and Anders were sceptical: "You've not even worn those, you're going to regret that."
However, the boots didn't let him down: "I wouldn't wear anything else. The amount of walking we did would make anyone's feet ache - but those boots are world-class. I wore Brandecosse in Kyrgyzstan, Norway and now Greenland in March 2023."
Nathan's confidence inspired Kris and Anders to purchase their own pairs!
Rifles and optics
Nathan recommends extensive advance planning and discussions with hunt outfitters for less experienced hunters.
He took his own binoculars (Leupold) for comfort and familiarity, relying on the estate for rifles and other equipment. He chose Plahtes for this reason - they professionally cater for all experience levels while still providing a raw, intense experience.
Kris brought Nathan a familiar 30.06 fitted with a Leuopold scope. He had Nathan zero the rifle between 100 and 150 yards. Favouring comfort over bravado, they agreed they didn't want to take shots exceeding this range.
Getting to Norway
If you don't have a firearm to declare, travelling to Norway from the UK is straightforward. Most major carriers fly to Oslo and Trondheim, from where you can take a 45-minute shuttle flight to Rorvik - Plahtes' closest airport. An airport hotel is a good idea if your connecting flight isn't on the same day as your main flight.
Nathan warned that the flight to Rorvik was hairy as their tiny plane flew over rough seas: "By the time we landed some people were screaming from the turbulence," he laughed.
It's essential to plan your flight - from anticipating airport logistics to ensuring essential items are in your hand luggage. "Losing gear can ruin your hunt - since it's a brief trip, the chance of lost essential items returning to you in time is pretty slim."
Nathan's sleeping bag hadn't arrived (plus the thermal socks he'd rolled up in it), a significant limitation on unplanned camping or sparsely-outfitted lodgings. Where estates can't readily restock lodgings, self-sufficiency is important.
Accommodation and catering
Located down a gravel track 14 km from the main road, Plahtes offered rustic American-style log cabins complete with mossy insulating roofs and classic decking " you could picture someone sitting on in a rocking chair, smoking."
Cabins are solar- and generator-powered, equipped with wood stores, an outdoor ablutions and sauna room. Inside they offer kitchen and dining areas, with bunk beds in the bedrooms.
"There was no phone signal, no connection to the outside world. This stunning valley unfolded behind the cabins - the most idyllic start to the most gruelling hunting experience I'd had to date," laughed Nathan.
As a novice client, Nathan was fully cared for, experiencing a Norwegian favourite - sliced moose tongue served with cream cheese and flatbreads. "When in Norway, as they say."
The guides laid on hearty food including stews and moose steaks, giving their clients energy for the tough physical tasks ahead. "Moose steak has a similar texture to beef but tastes gamier. It's delicious and very lean."
Calibrating rifle and hunter
As Nathan was new to moose hunting, Kris wanted to ensure the gun was performing optimally, concurrently assessing Nathan's shooting capability and confidence. "You take your guide's advice," said Nathan. "There are people who'll take longer shots - that's their prerogative if they're confident enough."
Kris needed to ensure that in the event of injury or likely circumstantial changes, Nathan could react correctly: handing the rifle over, ensuring a safe follow-up shot could follow for humane dispatch.
"Zeroing the rifle and assessing my capability was a significant part of preparation," Nathan continued. We got good grouping on the shots, considering the target area is larger than on a deer. These psychological adjustments gave me confidence going out."
Mental preparation
Nathan adopts a "what if" thought process entering each hunt, believing that while confidence is important, expecting outcomes makes you less reactive. "I want to know how I'll react if something goes wrong. My emotions and wellbeing are of no concern - the animal's condition is most important."
With only four days to hunt, Nathan felt pressure to succeed. He now realises that it's still a hunting trip even if it's unsuccessful. Between the Norwegians' "rocket fuel" coffee, roaring campfires and meatballs roasted on sticks "it became less about finding moose and more about bonding and enjoying the experience."
The guides made a concerted effort to help Nathan succeed, but he countered, "You have to remember, these are wild animals - you've got to work for it."
Physical preparation
"From the first time I greeted Kris I knew it was going to be a proper adventure ," smiled Nathan. "The Norwegians are amazing - they have a very sarcastic sense of humour which is just hilarious."
Though Nathan was fit from regular Peak District walks, Kris and Anders deadpanned "We're going up that hill" in reference to the mountain dubbed Heart Attack Hill, which they scaled four times. "I still have nightmares about it," Nathan joked. "No step machine can prepare you for that baptism of fire."
Under heavy gear, steep and boggy terrain quickly sapped his energy - but spectacular vistas and advantageous viewpoints were his reward. "It was like something out of Lord of the Rings," Nathan recalled. "We spent an hour glassing for moose on the far bank."
Planning the hunt
The trip took five months' planning. Nathan wanted the rawest, truest experience possible: "Don't shield me from the blood and guts and nitty gritty, make it as real as possible."
Prior to departing the UK, Nathan and Kris agreed that returning to the cabin nightly was preferable to camping out, even if it meant retraversing long distances: its central location made living, replanning and retrieval more practical.
In such an inaccessible environment, shooting an animal in a practically retrievable location was crucial. Without the option of using an argocat or dragging the carcass, Kris, Nathan and Anders explored several routes to plan the easiest possible retrieval.
Once moose were sighted, Kris assessed which would be appropriate for his quota, which Nathan intrinsically understood. "They won't shoot any moose: like there's a UK deer management plan, there's a strict management plan for Norwegian moose."
The hunt
Locating moose in this expansive valley was "like finding a tiny needle in a haystack." On day three, a young moose was spotted 4 km away against a mountainside.
Setting off in the early afternoon, they checked the wind and opted for a tough approach around the back of the mountain. Anders relayed visual information via radio from their lunch camp, while Kris and Nathan set up the rifle on an appropriate ledge, tensely lying in wait on the rough granite.
While they had approximated the moose's point of emergence, radio communication had failed. Dripping with sweat, Nathan was determined to complete his mission. As his eyes started to overfocus on the scope, he noticed movement from the corner of his eye.
The moose emerged on a completely unexpected false ledge 20 m away. "It was surreal. I had the rifle ready, the scope was in the perfect place - we couldn't move or it would disturb her; we wouldn't get a safe shot off."
He fired. The moose tore off down a rocky escarpment, dropping from view. While Kris connected with the second of two ethical insurance shots, Nathan's initial shot had done the job: heart pounding from the unexpected scenario, he had succeeded.
"This reassured me - she'd run off on pure adrenaline. Kris congratulated me, it was quite emotional." Anders arrived an hour later and the trio gralloched and dressed the moose.
"I'm happy I took such a close shot - I was confident and had sound advice from someone who knew what they were doing."
Post-hunt considerations
After gralloching the moose, the trio dragged her to a more accessible retrieval point, covering her with sticks, branches and diversions to ward off birds and scavengers.
The next day they transported the 130 kg carcass in rucksacks. Nathan aimed to tan and keep the hide, but it spoiled before he was able to.
It's worth knowing that exporting hunting goods to the UK from Norway is difficult - and will be more so with new proposed legislation surrounding what the government perceive as trophies from certain countries.
Animal quotas
Animal quotas factor into most locations, so they're crucial to planning. In Norway, quotas are strictly governed by local authorities and closely communicated between estate owners, mutual estates and hunting communities.
Plahtes have a requirement to shoot a percentage of large bulls, cows and calves. While their moose population is abundant and many moose can be shot each season, there are heavy penalties for quota transgressions, demonstrating the Norwegians' respect for their game.
Replicating Nathan's hunt
Nathan's outfitters were Plahtes Eiendommer Estate in Norway. He's happy to connect anyone who messages him with the estate.
A full trip costs between £2,000 and £3,000, depending on the animal you hunt, hunt specifics, accommodation and additional activities like wind shooting. At Plahtes, Kris and Anders offer other techniques like traditional baying dog hunts using Norwegian elkhounds to track the moose.
They might also introduce you to Scandinavian traditions like karsk, a lethal combination of coffee and strong alcohol. "Hunting and homebrew was the theme for 2022. On our second night Kris' friend gave us karsk the traditional way: it was 86% alcohol! You could put a match to it, it was like petrol. I slept like a log that night," concluded Nathan.
Find out more about Nathan's kit and follow his journey by following Viking Arms Ltd on YouTube, subscribe to this podcast or by looking at the latest news on vikingshoot.com.
Viking is a specialist UK hunting distributor stocking firearms, ammunition and shooting accessories from leading brands including Ruger, Mossberg, Vudu, Remington, Lapua, Streamlight and others.
The UK's most respected sports gun supplier, Viking was established in 1965 by Geoffrey and Hilary Brown. Viking supplies the highest quality shooting brands, trusted throughout the industry for their range of innovative and competitively-priced hunting equipment.