The Viking Arms Ultimate Guide to Hunting Optics

Our latest ultimate guide is out now. In this edition, we're focusing on everything you need to know about hunting sights, rifle scopes and target shooting optics.
If you're looking for a new hunting scope or shooting sights, then make sure you download this guide to understand everything you need to know about buying a scope. It will help you to understand what features to look for and how best to invest your budget.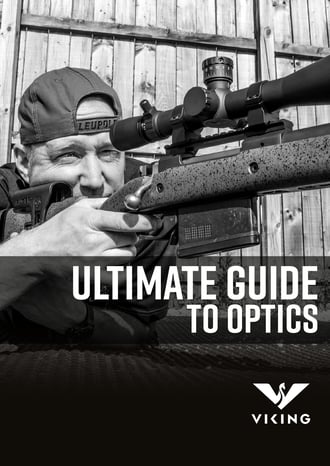 What's inside?
The biggest issue with novices is over-scoping, buying something that is totally unsuited to requirements, just because it looks sexy and has lots of features, some, if not all could be redundant. Do you need multi-coloured illumination, overly complex reticle, a big/heavy variable-type with ballistic turrets for a 22 Rimfire rabbit rifle, what about a side wheel the size of a dinner plate, the answer to these and other questions is a definite NO. All have their place, but, until you gain experience and know what path you will follow apply the K.I.S.S. principle; keep it simple stupid!
Top Tip - when buying a scope consider what it offers in relation to what facilities you actually need)
There's an old adage that says; you should pay more for your scope than you do for your rifle, not necessarily true, but you get the idea? Modern firearms and airguns are well made so will shoot, but mating them with cheap and nasty optics that won't do the business is pointless to save a bit of money. The good thing today is that optical quality is very high and will not break the bank, given you choose wisely in relation to what you want to do.
It's worth bearing in mind that high magnification is a mixed blessing. Sure, you can see greater detail, but with a reduced FOV and light transmission being the result. Equally at high mag, every movement you make in the aim is amplified. Although most will opt for a x3-12 or x3-15, dialling down to x8 gives more than enough magnification and improves on FOV, light transmission and general shootability for most situations. Even more so if you wind down to x6. What these higher mag variables offer is a deal of flexibility that can be put to good use in the right conditions, when used properly.
Today we are seeing a trend in scopes that offer a wider magnification range. Whereas, before a 3-12x50 was considered a good general use optic, you can now get various specifications that increase both top and bottom end use. A good example is Swarovski's Z8 series, their 1.7-13.3x42 is a true, multi-use design. At x1.7 you can shoot close up on wild boar yet dialled up to x13.3 it can take you right out for some serious long range hunting. This technology is now filtering down to the Chinese and Japanese manufacturers, so you won't have to pay £2500+ for the pleasure anymore.
---
Here are some suggestions:
General use range or hunting: 3-9x40/50 variable, fixed power x4, x6 or x8.
General hunting: 2-10x42/50, 3-12x50, 3-15x56 variables.
Close range hunting or target shooting: 1-4x24, 1-6x24/42 variables.
General Range use: 3-15x50/56 or larger variables with ballistic turrets/reticle.
Longer range use: 6-24x50/56 or more, with Field Target scopes going up to x50 with even larger objectives for that all-important range finding ability.
These are just suggestions and not gospel, but you get the idea?
---
Also in our ultimate guide you'll find information about:
Insight into the telescopic rifle sight.

Find out how the true, modern rifle scope we know today can be credited to the Kahles company of Austria.

We deconstruct the generic modern rifle scope and see what makes it tick.

We explore scope light transmission and why it's important.

Top tips for using precision or tactical (ballistic) turrets.

How to understand the values on your rifle scope.

Recticals: what pattern should you opt for?

Focal Plane, Mil-Dot, mount-up and more!

Access your free guide here: