Viking Arms' Armourer Announced as Engineering Excellence Award's Finalist

Viking Arms is delighted to announce that Simon Tole, our specialist Glock armourer has been announced as a finalist in this year's Engineering Excellence Award category at the 2022 Ex Forces in Business Awards.
Simon Tole is one of the UK's leading specialist firearms trainers and armourers. Since leaving the RAF he has carved out an exceptional career combining his technical knowledge and engineering skills to deliver first-class nationwide police, military and commercial firearms training and support. His announcement as a finalist in the world's largest and leading celebration of military veterans in second careers is a very proud moment for Viking Arms.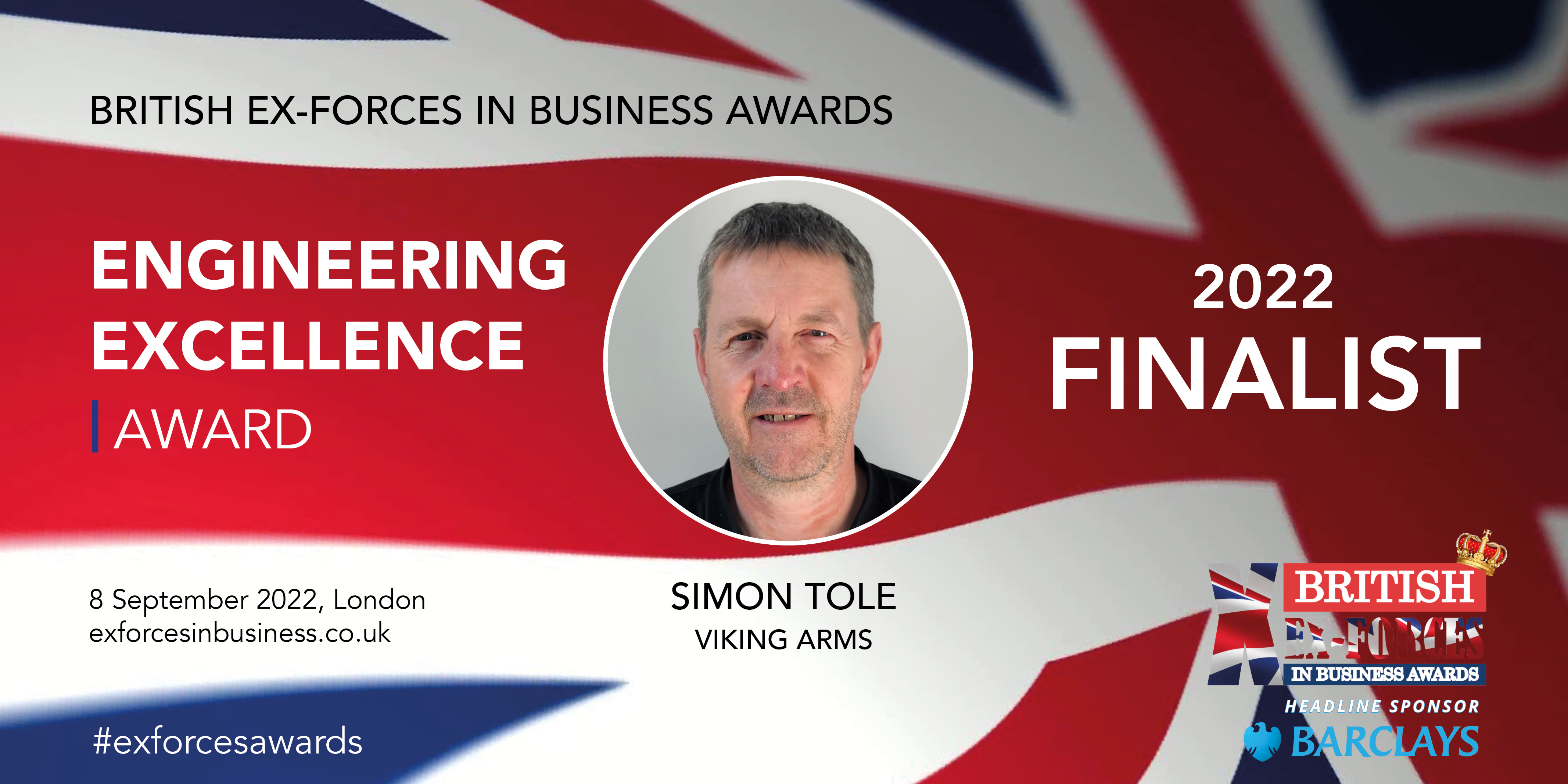 The thousands of servicemen and women who leave the British Armed Forces each year create a rich talent pool for employers across all sectors to tap into. The world-class skills and renowned values nurtured within the British Armed Forces arm service leavers with the experience, capability and aptitude to offer great value to businesses.
However, establishing a meaningful second career can be challenging, with visibility of role models, and awareness among employers of the veterans talent pool, historically lacking. A third of UK hirers told a study by SSAFA they'd feel reluctant hiring a veteran, and just 48% of workers said they would feel comfortable working with a service leaver.
Depictions of veterans in mainstream media, TV and film fuel misconceptions which create and exacerbate the challenges facing service leavers. Since launching in 2018, the Ex-Forces in Business Awards has led the way in promoting a more positive and accurate representation of veterans, as assets to employers across all major industries.
The Awards programme is also a powerful vehicle for increasing visibility of both role models and career opportunities for veterans, and educating employers on the exceptional transferable talents among military service leavers. This year's UK shortlist exhibits the second-career achievements of over 200 veterans and reservists, whittled down from a record-breaking 700 nominations. The breadth of opportunities available to veterans are evident through the big variety of sectors represented on the shortlist.
Alistair Currie, Global Head of Consumer Banking & Payments at Barclays, Headline Sponsor of the awards programme, said: "As a leading employer of UK veterans and admirer of their skills and talents, Barclays are extremely proud to be headline sponsor of the British Ex-Forces in Business Awards for the third year running, and we congratulate all of the finalists for being incredible role models to the wider Armed Forces community.
"Barclays is a better business because of our veteran and reservist colleagues. These Awards play a crucial role in promoting the huge value that ex-forces personnel add in their second careers, both to their individual employers and to the economy as a whole. It is wonderful to see the veteran community come together in force and it's inspiring to see the positive impact of veterans across the broad spectrum of British industry."
The winners of this year's British Ex-Forces in Business Awards will be announced and celebrated at a sparkling ceremony on 8 September. Broadcaster Jacqui Oatley MBE will welcome over 1,000 business and military leaders to the Grosvenor House hotel's prestigious Great Room on Park Lane. As well as hosting the highly anticipated awards ceremony, Oatley will introduce a programme of live entertainment and special guest speakers including Air Marshal Dame Sue Gray, the UK's first female three-star officer.
Sponsors of the Awards include Barclays, Amazon, Microsoft, AECOM, Aphex, Barratt Developments, FDM Group, Galliford Try, Irwin Mitchell, Santander and Vistry Group. The winners are decided by a judging panel of business leaders from organisations including Boeing, Dell, Ernst & Young, GB Snowsport, John Lewis, Knight Frank, Lloyds Banking Group, MBDA, Northern Trust, Provident Financial Group, Serco and the NHS.
Lt. Gen. Sir Andrew Gregory, CEO at SSAFA, Official Charity Partner of the Awards, said: "All of us at SSAFA send our warmest congratulations to those who have been shortlisted for this the fifth annual British Ex-Forces in Business Awards. SSAFA, the Armed Forces charity, is extremely proud and grateful to be the official charity partner of this fine event that celebrates veteran employment and helps to increase visibility of business role models for servicemen and women. It is heartening to see such a large volume and breadth of employers acknowledging the skills and values of those who have served their country."