Winner announced: Mossberg 940 Pro Field Semi-Automatic Shotgun

A universal gun for every shooting sports enthusiast, the new Mossberg 940 Pro Field is well suited to both clay pigeon and vermin control and we can now reveal the lucky winner!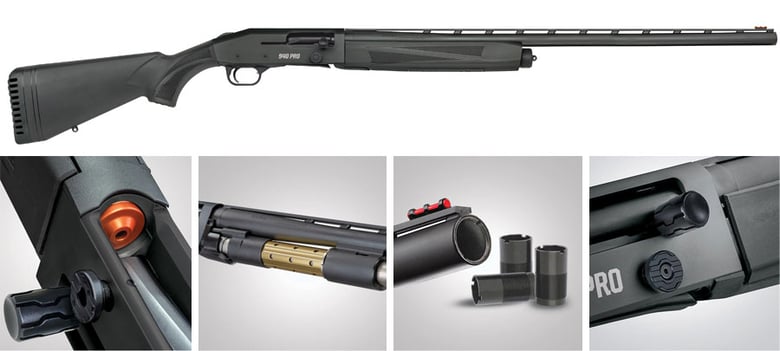 Huge congratulations to Tim Holmes whose name was drawn as the winner in our Independence Day 2022 competition. At the weekend he headed to Keen's Tackle and Guns to pick up his new Mossberg 940 Pro Field semi-automatic shotgun.
Here's Tim receiving his gun from gunshop owner Dave Keen. Tim says, "I was completely shocked to win the competition. I can't wait to get out and into the field to try it out!"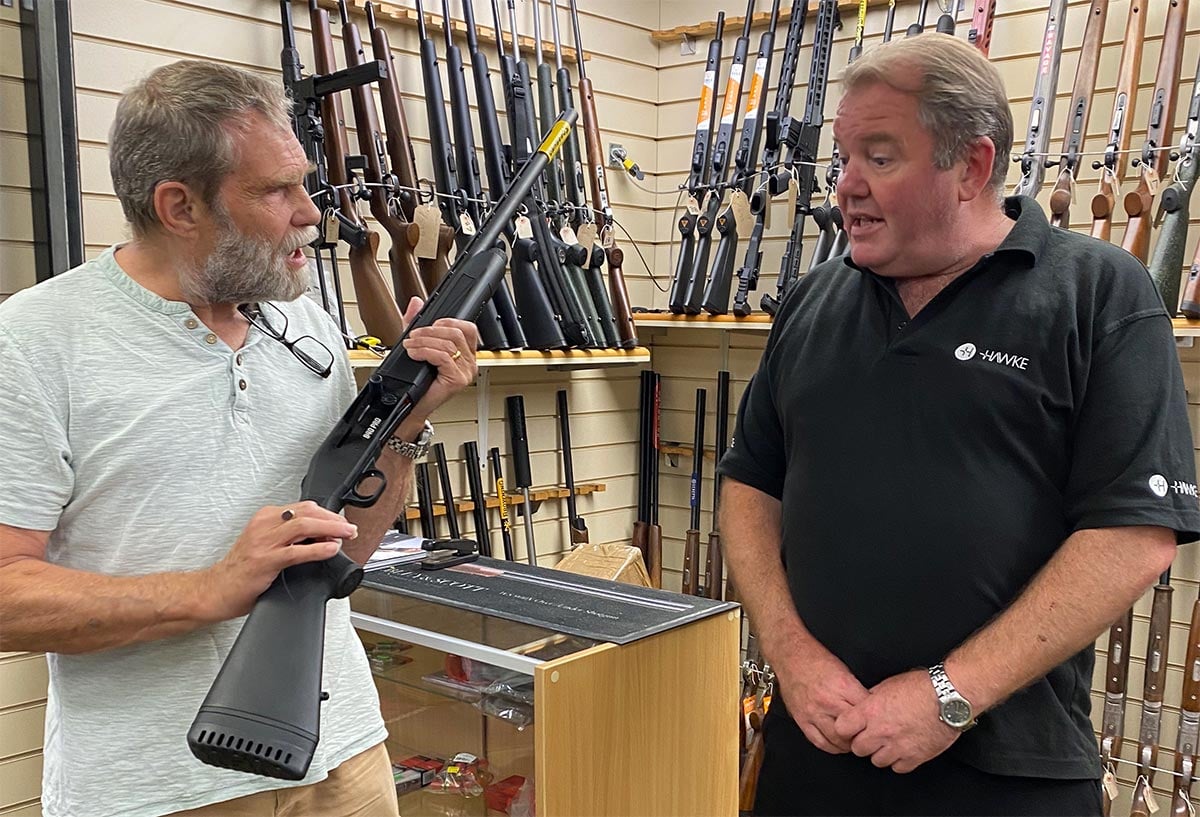 Tim goes on, "I would like you all at Viking to know that I am extremely pleased with the Mossberg 940 that I won. My shooting partners were impressed with its style and feel. The gun handled very well and I was breaking clays immediately when I started using it. My mates also used it and were similarly impressed.
As the saying goes - if it looks right and feels right it IS right. Thank you for this great prize. I now have a definite favourite clay gun. I am so happy!" Another happy customer for Mossberg in the UK.
Dave Keen, Keen's Tackle and Guns shop owner was also enthusiastic to get his hands on the new Mossberg and take a look. "The quality and finish of the Mossberg 940 Pro was excellent. It handled well and the weight and balance was exceptional. It was fantastic to get a first look at this gun, and Tim is a very lucky guy to have won it!'
Be the first to know about our competitions and prize draws, sign up to our newsletter:
Check out our other American brands; including Leupold Optics, Ruger, Pro-Shot, Eotech, Streamlight Pro, Vudu and Splatter Shot.
---

---

Mossberg: More gun for your money
Like Viking, Mossberg is a family run business and America's oldest family-owned firearms company. Twinned with an impressive history is the company's reputation for outstanding production processes and technology that's ever-advancing at a 21st-century pace.
O.F. Mossberg & Sons: Oscar Mossberg with sons Harold & Iver.
O.F. Mossberg & Sons began in March of 1919 in a rented loft on State Street in New Haven, Connecticut. Founder Oscar Mossberg and his sons Iver and Harold demonstrated a proven talent for innovative design and mechanical expertise that would spawn four generations of manufacturing quality sporting firearms at affordable prices.
The BROWNIE pistol was the new firm's first firearm. A .22 calibre, four-shot "pocket pistol," the Brownie's appealing lines and popular price of just $5 led to a production of over 32,000 pistols in its 13-year run.

The Mossberg "Brownie" Pistol
Growing quickly, the tiny firm brought to market a succession of over two dozen firearms, developing and improving a generation of bolt action rifles and shotguns in the $5-$15 range.
By the late 1930s, when other firms were struggling with the economic realities of the Great Depression, Mossberg boasted sales of more than one million firearms and scopes, and employed more than 300 workers. Yet Mossberg never lost the kind of family environment normally associated with smaller companies; they hosted annual Christmas parties for the workers and family members, theatre and shopping trips to NYC, and even company-sponsored softball and rifle teams. As it remains today, this was a firm where top management knew everyone on a first-name basis.
Mossberg began its relationship with the US military in 1940 with government contracts for close tolerance tooling gauges, .50 calibre machine gun parts, and sub-contracts for the British Lee-Enfield rifles. Mossberg also produced the 42MB training rifle, destined for British troops under the Lend-Lease agreement, and the 44US target trainer, produced for U.S. Army and Navy forces. Post-war models sought to build on the success of the "GI" rifles, and a series of industry "firsts" such as grooved receivers, hinged peep sights, and thumb-operated safeties brought the Mossberg name into millions of American households whose members can fondly say, "My first gun was a Mossberg."
Mossberg Sales Team, circa 1939
…to modern times…
The year 1962 was a benchmark for Mossberg. The 500® model pump shotgun was introduced which would grow to not only be the company's most successful firearm, but today, after over 50 years and reaching the 10 million in a shorter amount of time than any other, is surely considered one of the world's most popular and prolific firearms.
Mossberg's dominance of the world of pump-action shotguns began with the 500®. Over the years, Mossberg added a dazzling array of barrel and stock configurations, developed the first-ever shotgun chambered for the then-new 31/2" 12 gauge magnum shot shell, and secured and expanded a growing line of US military and law enforcement contracts.
Mossberg shotguns are no strangers on the range or on duty. The company is the only one to pass MilSpec requirements for a pump action shotgun.
Since 1979 Mossberg's military 500® and 590® and 590A1™ models have been the only pump-action shotguns ever to pass all US Military Mil-Spec 3443 requirements–the heart of which is full interchangeability of parts in the field, and a 3000-round endurance test using buck shot loads.
Mossberg's Senior Vice President and General Counsel, Joe Bartozzi, adds, "As it was in WWII, we have a good relationship with the military. Back in the early 90's, US Navy engineers came to us with a request to modify some of our features on the 590. They wanted a 6-shot model with a clean-out tube, heavy-walled barrel, and an aluminium trigger group and safety. The result was the Model 590A1, representing the largest-ever military contract for a Mossberg firearm in modern history."
What that means for military and law enforcement is a reliable and rugged performer in the field, shaped by feedback from soldiers and officers whose lives depend on it. What that means for the consumer is the credibility of rock solid design and a new array of features to serve their shooting sports needs.
…and beyond.

One of over 100 patents for Mossberg includes those used on the FLEX modular system
In just the last few years, Mossberg has launched some of the most innovative and extensive product lines in history: Three patents are found in the FLEX modular system design alone; the patents in the MVP rifles mean consumers are using their standard AR magazines for the first time in a bolt action rifle; the Mossberg MMR was the answer to those who preferred the popular AR platform; and the Blaze and Blaze 47 rifles with their polymer receivers brought a new spin on the fun to shoot 22LR platform.
Many families have introduced youths to the shooting sports with Mossberg shotguns and rifles.
(Shown: Youth Patriot Rifle)
Their time-honoured 'More Gun for the Money' philosophy is never been more apparent than in the recent introduction of the Patriot long and short action centerfire rifles with premium features without the premium price tag. Mossberg's newfound diversity covers the world of sporting clays, big game, upland game, waterfowl, and turkey hunting, plus competition shotgunning for both the beginning and experienced shooter alike. This comes at a time when many established firearms makers have either closed their doors, been bought out by corporate mergers, or have been forced to drop long-standing signature models from their lines.
Just as it did in the Great Depression, Mossberg is thriving and prospering against a backdrop of volatility that is seeing radical changes in the industry. Iver Mossberg explains, "Being family-owned, we have the flexibility to move on a dime to react and take advantage of opportunities in the market. We don't have the red tape that could bog down other companies. We get direct feedback from our consumers, sales reps and core management team, and information does not get lost as it travels through the system."
Chairman of the Board Alan I. Mossberg and his son, CEO A. Iver Mossberg discuss rifle engineering specifications.
Alan Mossberg adds, "We have the same challenges that my grandfather, father and uncle faced over the years. It's a question of balance, really. On the one hand, reducing risks so that we can stay competitive and maintain profitability. On the other hand, you have to take risks so that you can grow, develop new products and serve new markets. The key," he nods, "is knowing which risks to take and which to eliminate."
How does Mossberg achieve greater dominance with the new line? "By doing what we always have done," Bartozzi says, "and by listening to the customer. New options. New features. But the ultimate reason that your product will sell — is quality." Bartozzi concludes, "Good lines that are robust, rugged and reliable at an excellent price is now and has always been Mossberg's recipe for success."
The Mossberg story is an American story of how the past shapes the present and the future. The Mossberg family name is on the door handles at the factory. The Mossberg's are in the plant everyday, surrounded by a core management team with a "hands-on" feel and experience as designers, engineers, hunters and avid sportsmen. This is Mossberg's "extended family," and they never forget that the aesthetics of a good product are as much art as they are science. Iver Mossberg reflects upon four generations of his family's legacy. "At Mossberg, it's about gaining and keeping customers for life. We succeed when our customer says, "My first gun was a Mossberg, my current gun is a Mossberg, and my next gun will be a Mossberg."