Why is the 940 JM Pro Mossberg Shotgun the go-to gun of champions?

With 20 world records and more than 100 national and international titles, Jerry Miculek was the obvious choice of expert to collaborate in Mossberg's creation of the 930 JM Pro-Series Competition Shotgun and on its revival, the upgraded semi automatic Mossberg 940 JM Pro shotgun.
Designed in partnership with some of the world's most legendary shooters, Jerry and Lena Miculek, Mossberg's two-year long project to build a competition-ready semi-automatic shotgun was a success and the 12-guage, semi-automatic, 940 JM Pro was constructed with the 930 JM utilised as a baseline model.
Although the 930 JM Pro-Series Competition Shotgun is an impressive and iconic shotgun, the newly enhanced 940 JM Pro has everything that the original lacked. This semi automatic is now the shotgun of choice for UK's first competition shooters Team Williamson, who are officially sponsored by both Viking Arms and Mossberg.
Mossberg engineers worked alongside with both Miculek's to establish and re-model the features that were lacklustre and in need of improvement from the 930 JM. Everything that everyone wanted in the 930 JM was put into the latest 940 JM model shotgun. The 940 JM Pro Mossberg semi automatic shotgun is available in two 10-shot models.
Miculek's additions flaunt many competitor-friendly features, it's fast cycling and ultra-competitive. Mossberg's major enhancements to the autoloading shotgun include:
The gas system
Due to the nickel boron-coated internal parts, this shotgun supports reliable operation up to 1,500 rounds without cleaning and will cycle through any 2 3⁄4 or 3-inch factory-made ammunition. Each time it cycles, moisture or carbon build-up is eliminated with the addition of a stepped and vented-spacer component – this keeps the gas system running quick.
Loading port
No need to modify the receiver as the 940 has been designed to allow shooters to efficiently quad-load magazine tube and is the only out-of-the-box shotgun to offer such a feature so far. Common and annoying pinch points have also been eliminated with the renewed design of the elevator and shell catch and no longer catch's thumbs.
Point-of-aim/point-of-impact
Using factory-made ammunition, users of the 940's are able to maintain an accurate point-of-aim/point-of-impact with the newly design barrel-making process that offers a reliable and consistent platform.
Overall product fit and functionality
Watch gun reviewer Pete Moore put the Mossberg 940 JM Pro semi-automatic shotgun through its paces:
This shotgun has ergonomic features in the forend and stock and is advantageously configurable in the stock for drop, cast and length-of-pull. The forearm has been slimmed down to reduce loading time. The trigger is better than most semi-automatics, with only a slight creep and Zero over travel – it is great for accurate shooting with slugs.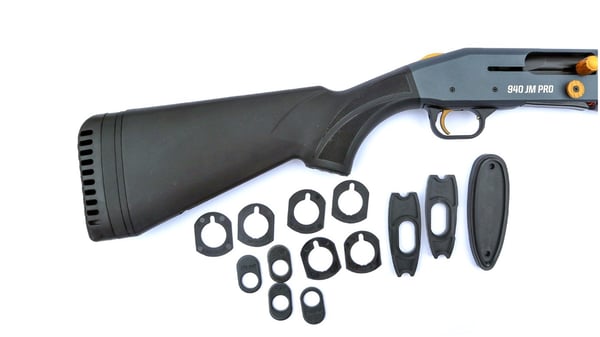 Sight system
The upgraded sight system was added to provide users with superior sighting especially in competitive environments with the utilisation of fibre optic HIVIZ® TriComp sight system.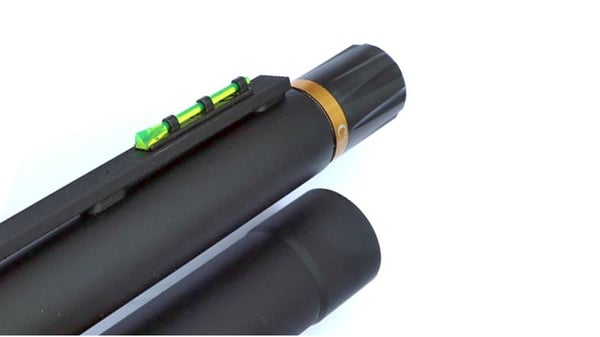 Choke system
Mossberg's Accu-Choke™ is the system the 940 has been equipped with and features Briley® extended chokes; cylinder, improved cylinder, and modified.
With a durable new gas system, nickel boron-coated internal parts which aid in the smooth operation and competition-level upgraded features of the loading port, elevator and follower, this near-perfected shotgun is built to compete.
Although originally enhanced especially for optimised competitive speed, accuracy and durability, the 940 JM is also a capable, affordable and reliable broad-based, general-purpose gun.
---
Specs:
Calibre: 12-gauge (3-inch chamber)
Barrel: 24 inches
Capacity: 9+1 (2.75-inch shells)
Length: 44.75 inches
Weight unloaded: 7.75 pounds
Colourways: Tungsten grey receiver with black furniture, black receiver with black Multicam furniture
---